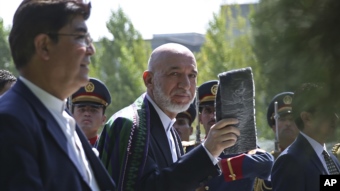 Afghanistan's President Hamid Karzai, center, leaves after Eid al- Fitr prayer at the presidential palace in Kabul, Afghanistan, July 28, 2014.
Afghan officials said a suicide bomber has killed a cousin of President Hamid Karzai in the southern province of Kandahar.
Regional officials said Heshmat Karzai was hosting an event at his house for the Eid al-Fitr holiday when a visitor blew himself up with explosives hidden inside a turban.
No one claimed responsibility for the attack.
Heshmat Karzai led the election campaign of presidential candidate Ashraf Ghani, one of two presidential hopefuls vying to replace Karzai.
Ghani and his opponent, Abdullah Abdullah, are at odds over the June 14 presidential runoff vote.
Preliminary results put Ghani ahead, but Abdullah rejected the outcome and alleged massive fraud.
In a deal mediated by U.S. Secretary of State John Kerry, the rival presidential candidates agreed to a full U.N.-supervised audit of the entire runoff poll and committed to abide by the final results.